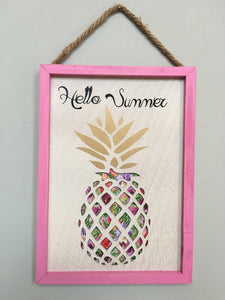 Beach Hello Summer Pineapple Sign
What a bright and cheerful sign to welcome summer!  This tropical display of a pineapple coupled with the saying "Hello Summer" will look great in your home!  Will serve as a great compliment with Crazeabout's Beach Paradise Flamingo Sign too!  13.75" x 9.75"
***NOTE: This is a one of a kind item. If this item is currently sold out or you would like to purchase more then one item, please contact support@crazeabout.com.