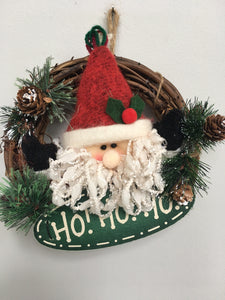 Christmas Santa Ho!Ho!Ho! Grapevine Wreath Wall Hanging
Adorable little wreath with Santa popping his head out with the words Ho! Ho! Ho! written below.  Decorated with pine cones, berries and artificial evergreens!  7" x 7"
***NOTE: This is a one of a kind item. If this item is currently sold out or you would like to purchase more then one item, please contact support@crazeabout.com.