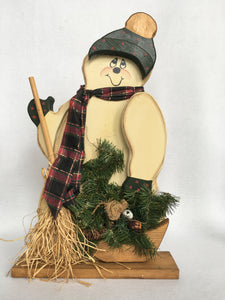 Christmas Vintage Hand Crafted and Hand Painted Wooden Snowman
Great piece depicting a snowman all bundled up with a hat, mittens and scarf holding a broom and a sleigh filled with evergreens, pinecones and berries!  This one of a kind piece, all hand-made and constructed of solid wood!  13" x 21"
***NOTE: This is a one of a kind item. If this item is currently sold out or you would like to purchase more then one item, please contact support@crazeabout.com.