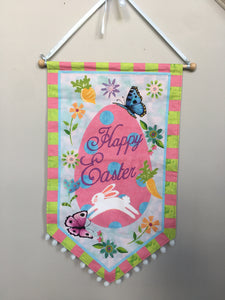 Easter Happy Easter Dowel Rod Wall Hanging
Enjoy this cheerful happy Easter wall hanging with pom poms on the bottom to brighten up your Easter home décor!  This wall handing has everything that is represented in spring including a bunny, flowers, carrots, and even a butterfly!  Choose "Jumping Bunny" or "Peeking Bunny".
***NOTE:  This is a one of a kind item. If this item is currently sold out or you would like to purchase more than one item, please contact support@crazeabout.com.