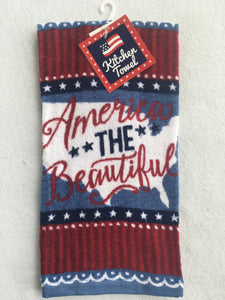 Patriotic America The Beautiful Kitchen Towel
How patriotic is this kitchen towel depicting the United States along with stars and stripes stating "America The Beautiful"!  Great to decorate and use in your kitchen for all our patriotic holidays!  Made of 100% cotton. 15 in. x 25 in.
***NOTE:  This is a one of a kind item. If this item is currently sold out or you would like to purchase more than one item, please contact support@crazeabout.com.