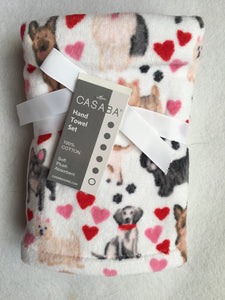 Valentine Dogs and Hearts 100% Cotton Hand Towels
Do you love your dog or just a dog lover?  Now you can enjoy these hand towels with all sorts of dogs and hearts in your home for Valentines' day or even all year round!  Plus nothing is better to use for your hands than a 100% cotton towel!  Not only will you love using these soft, plush and absorbent towels but they will serve as a great decorative piece for your home!  Made by Casaba.  100% Cotton.  Set of Two. 
***NOTE:  This is a one of a kind item. If this item is currently sold out or you would like to purchase more than one item, please contact support@crazeabout.com.